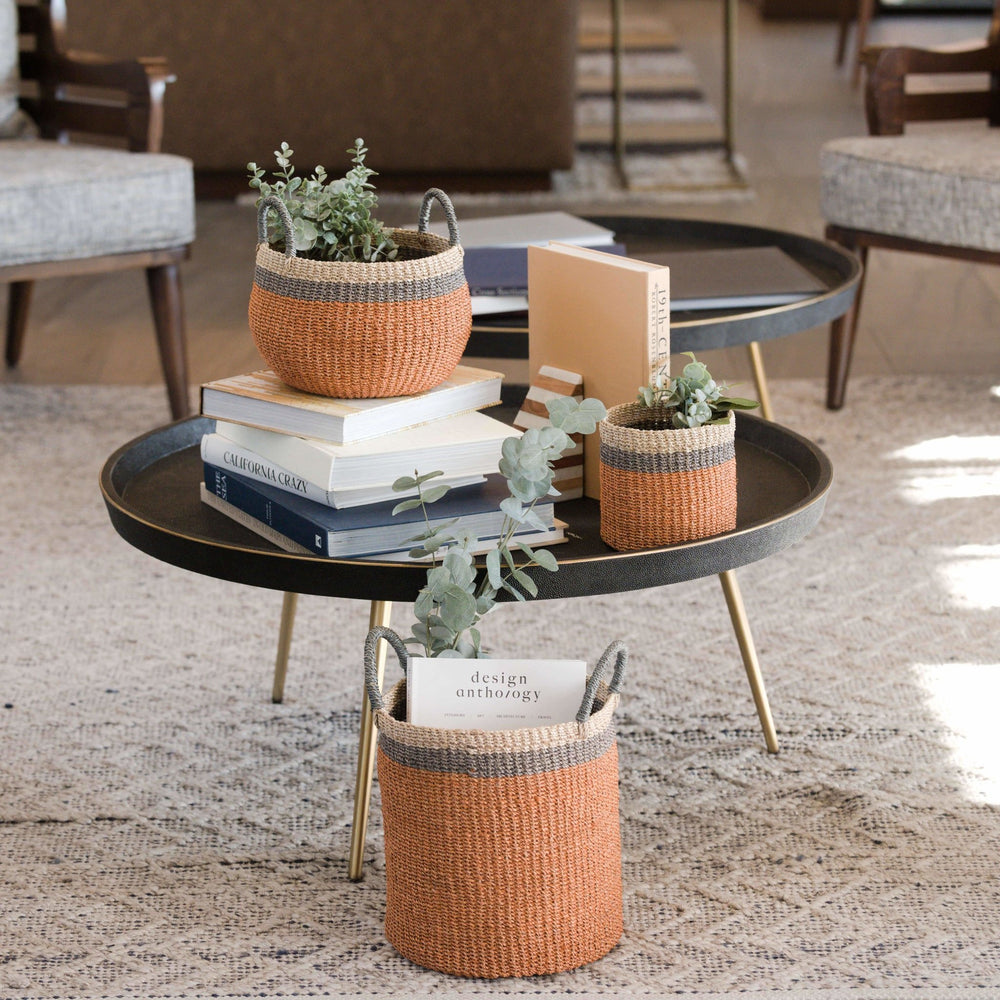 Modern baskets are all the rage right now. While these receptacles have been around for hundreds of years, it has found a new lease on life.

People went into home decorating or organizing because of stay-at-home orders and lockdowns. These homebound activities also led to an increased interest in baskets. That is why we at Likhâ have put together some ideas on how you can maximize their use at home.
Where did baskets come from?
Tracing the origins of baskets has been challenging. Materials like animal remains, grass, and wood are perishable. Evidence was commonly gathered by looking at weave imprints made on clay pots. Historians consider the baskets discovered in Faiyum, Egypt as the oldest. It was carbon-dated to be between 10,000 and 12,000 years old.

Since the Pre-Pottery Neolithic period, the types and uses of baskets have evolved. In the 21st-century lifestyle, these containers have gone beyond storage and architectural functions. Modern baskets nowadays have both artistic and practical uses.
What are baskets made of?
Basketry has also progressed over the centuries.

These days, there are four defined types of baskets. Coiled basketry makes use of grasses, pine needles, and rushes. Plaiting basketry makes use of materials that are braid-like and wide. Examples of these are New Zealand flax, palms, or yucca.

Twining is another type of basketry that uses roots and tree bark. The last type is wicker and splint basketry. Ash, cane, oak, reed, and willow are materials used in this type of basket production.

Likhâ modern baskets are usually made from Abacá and Bangkwan. Abacá or Manila hemp is considered as the strongest among the hard, natural fibers. This fiber is extracted from the pseudostems of the Musa textilis, an indigenous banana species in the Philippines. It is durable and resistant to humidity and saltwater damage. These qualities make it an ideal material for making bags, clothing, and furniture.


Another material used in Likhâ native baskets is seagrass. It is known in the Philippines as Bankuan or Ragiwdiw. This perennial sedge thrives on wet ground. Its resistance to molds makes it an ideal choice when making baskets.
How to Maximize Your Modern Baskets
1. Stash your things in.
Baskets are iconic containers that have agricultural and cultural relevance. A lot of cultures use these receptacles for carrying and storing agricultural products. Other cultures use baskets in traditional rites and household chores. Some societies use them as sieves or food servers. People also use waterproofed versions to store liquids in.
Storage baskets
help keep things neat and organized at home. These sturdy containers can stash a variety of things. It can range from little trinkets to more oversized articles.
Here are some other
ideas on where and how you can use your baskets
as a storage container:
Bathrooms - Use baskets as receptacles for toiletries, toilet paper rolls, or towels.

 Bedrooms - Baskets can serve as containers for accessories, throws, or kiddie toys.

Kitchen - You can use baskets to organize your pantry, store dishes or cutlery, or as a holder for your herb and spice bottles.

Living Area - Baskets are great for stashing keys in or organizing your magazines and knick-knacks. If you have a fireplace, you can also place your firewood in baskets.

Laundry Room - Modern baskets are also perfect as a hamper or clothes organizer. It can also be a container for clothespins, detergent bombs, and other laundry items.

Study - You can use baskets as tabletop organizers for pens and writing implements. Other than this, it's good as a container for books or your vintage CD collection.
2. Beautify your space with baskets.
Baskets come in various colors, materials, shapes, and sizes. Prettify your home with
decorative baskets
that can liven up your space. You can use them as accent pieces in nooks and crannies. Baskets can also serve as an attention-grabbing centerpiece.
Whether you want to go striking or subtle, there will be a basket that will suit your taste. For example, wicker baskets in natural tones can give off a minimalistic vibe. Alternatively, dark or color-block baskets can complement a modern design theme. For a splash of color, you can buy baskets with bold designs or vibrant hues.
3. Use them as planters.
Modern baskets are also a perfect example of how you can combine form and function. For instance, Likhâ's hand woven hanging basket can be a comfortable home for your potted plant. Its natural components make it more comfortable for plant roots to breathe.
Aside from indoor greens, here are some plant ideas that you can consider placing in baskets:
Dried or arrangements

Fresh bouquets

Succulents

Hanging plants
You Can Never Have Too Many Baskets
Baskets have many uses. You can literally put all your eggs in one (or more) basket in this case, as modern baskets are very versatile.
It's up to you to decide on how you can get the best value for your money. These containers help you organize things and keep them neat and orderly. Baskets can also elevate the look and feel of your home, making it a worthwhile and wise investment.