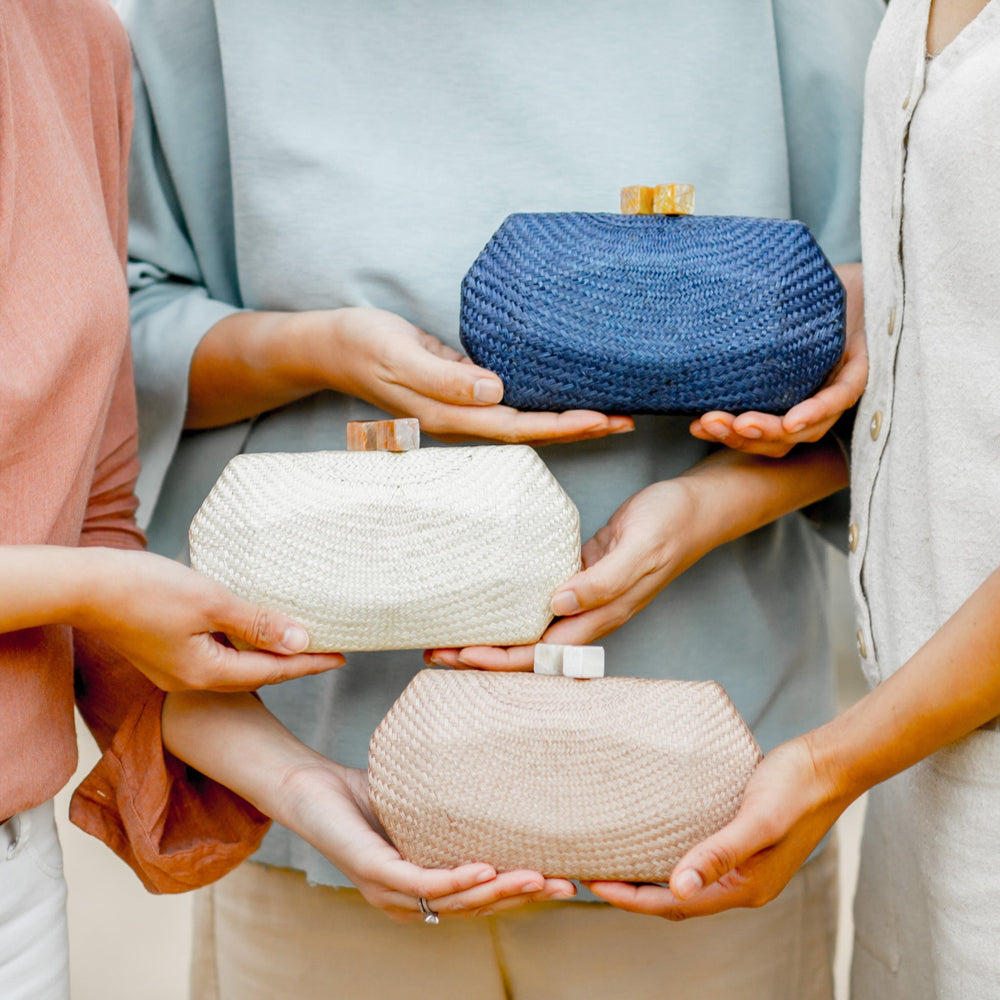 If you're racking your brain on what to get the moms in your life, then why not go for handmade goods? At Likhâ, we have a wide selection of unique pieces carefully crafted by our skilled artisans. 
Have a look at our simple Mother's Day gift guide and gift your mom, wife, grandma, and other mother figures around you. You'll surely score points with these creative and sustainable pieces.
LIKHÂ: A Haven for Handmade Goods
Mother's Day is fast approaching. Shopping for gifts for one of the most influential women on the planet can be daunting. That's why we at LIKHA put together a quick and easy gift guide to help you out.
For starters, you don't need to jostle your way through the crowd of shoppers. Just order from our online store. Sit back, relax, and we will deliver what you bought right to your doorstep in seven to ten days, free of charge*. You can also see our products in over 500 retailers across the US and beyond. Whichever way you choose to shop, you can be sure that each LIKHA purchase is a worthwhile investment.
Each gift you buy is not only a gift to your loved one. It is also a present to the many men and women who painstakingly craft each piece by hand. Each LIKHA creation features a blend of modern designs and traditional techniques. Through our partnership with these artisan communities in the Philippines, you help provide more than just a livelihood. It also means an extra push to uplift their status, develop their confidence and sense of self-worth, and uphold their dignity as craftspeople.
So go ahead, take your pick, and spread good vibes, joy, and kindness, especially this Mother's Day.
Accessories
Is your mom the type to fawn over the latest trends? Could your wife be someone who appreciates sustainable fashion? Does your best friend go gaga over exquisite, handcrafted items? You're looking at the right place.
LIKHA offers a collection of accessories that are ethically made and sustainably sourced. Created in partnership with our designers in California and brought to life by our Filipino craftspeople, each clutch or handbag speaks to like-minded people. People who uphold the values of quality, thoughtful design, inclusion, and environmental care.
2. Jewelry
No two moms are alike. And like them, our jewelry is also unique.  LIKHA has a variety of handcrafted jewelry that will please every fashion palate. Whether you're looking for bracelets or bangles, chokers, necklaces, or a fabulous pair of earrings, you can find one that will delight your gift recipient.
There's a sea of options when it comes to handmade jewelry. You can go for classy chokers made from sustainably-sourced Capiz shells, for example. Choose our mother-of-pearl bangle in either white or iridescent gray for understated elegance. Pair them with pearl white geometric earrings, and the wearer gets an instant glow-up. For a pop of color, why not go for a coral and burgundy bead necklace? Made from coco discs, woven abaca, and wooden beads, this funky piece immediately adds zest to any outfit.
3. Kitchenware
Some moms love to spend time in the kitchen, whether it's coming up with sumptuous dishes or organizing (and reorganizing) every nook and cranny. Cook up a delicious surprise by gifting her with our range of dinner and kitchenware.
Let them serve a feast with flair in our acacia dinner bowls, plates, and serving dishes. Acacia wood is a sensible and stylish choice when it comes to dinnerware. While you're at it, get her a chopping board made of acacia wood. This hardwood is not only renewable and eco-friendly. It also adds a distinctive style to your kitchen. It's also durable, hygienic, and water-resistant. 
Another fantastic gift option is our mother-of-pearl coasters. For moms who love to entertain, these beautifully-handcrafted pieces add pizzazz to any table. For a more natural vibe, our braided coasters and placements lend a homey and comfortable vibe that will put guests at ease.
4. Planters
The pandemic saw the rise of plant mommas everywhere. If you're planning to give a gift to one, LIKHA's range of planters will not disappoint.
Get one (or more) of our signature animal planters for that insanely interesting twist on planters. These adorable plant carriers are handwoven and made from coco coir, an eco-friendly material that offers good aeration.
 You can also consider getting a set of embroidered seagrass planters in different colors and designs. A cluster of wicker baskets on a table creates a visual impact and elevates the room's aesthetics. Similarly, a pair of floor baskets where you can place indoor plants at varying heights also lend a sense of symmetry to a space. We also have hanging baskets where moms can put their trailing babies in.
Whichever you choose as a gift, you can be sure that LIKHA's creations are made with excellent care and quality.
5. Storage Solutions
For moms who make it their life's purpose to organize, why not give any of our handwoven baskets? Part of modern day essentials are smart and stylish storage solutions. Our handmade goods provide an answer.
From cute catchalls that can hold keys, cards, and whatnots to floor baskets with handles, life is made much easier (and lovelier). You can put these baskets everywhere – entryways, the living room, kitchen, and bathroom. Even the laundry room can make good use of our handwoven straw baskets and bins.
Creations for Creators
Mothers are one-half of a pair who created us. They have nurtured us in their wombs and continue to strive to give us the best life possible. While some may not be perfect, it is undeniable that we wouldn't be here without them.
So for Mother's Day, let's take the time to shower the moms in our lives with extra care, appreciation, and affection. Likhâ means "creation," and we made sure to create worthy pieces that you would be proud to give to a creator like your mother.
*Free shipping on all orders over $75 excluding tax, and after promotional discounts are applied. Use promo code FREESHIP at check out.