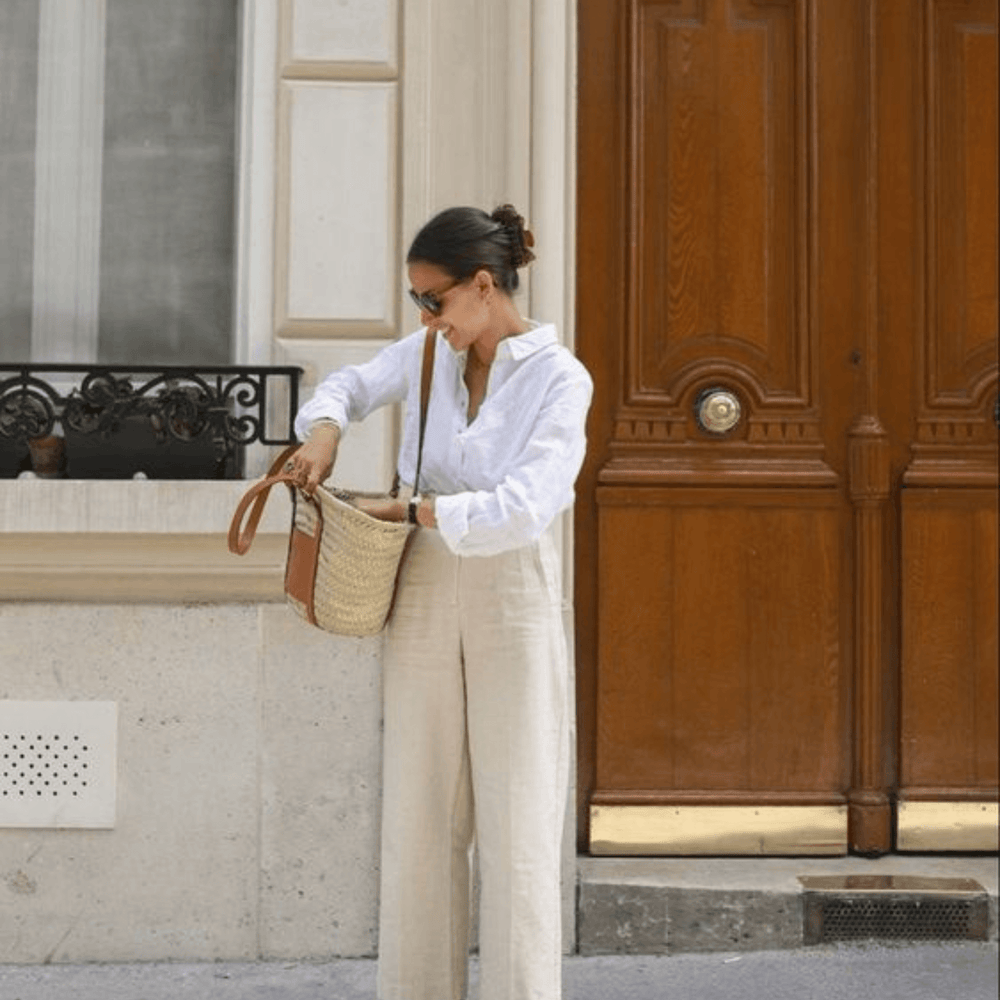 Photo by Brunechocolat
Spring may be at its tail-end. The good thing is most of the fashion trend that bloomed this season is looking their way up into summer. Shift between seasons with eye-catching accessories that elevate your look. Rule this twin season with style and substance. Choose from eye-catching mother-of-pearl jewelry to woven handbags as arm candies.
Swinging Seasons
Photo by Carolyn Arentson
Transition from spring to summer with adornments that make you stand out from the crowd in style. Whether it's casual comfort, quiet luxury, or any "core" fashion movements (think Barbiecore and the resurgence of Y2K fashion), fashion trends this spring and summer will surely bring a bounce to your step.
There's the explosion of silver and metallics. Add in a spray of feathers and a dizzying number of practical pockets. Accessories are also making a splash. Trinkets like belts, bracelets, earrings, handbags, hats, and necklaces can make or break an outfit. How, when, and where you wear them can dictate your look.
While the key spring/summer trends usually focus on clothes, we train the spotlight on adornments that elevate your style. So read on and clue yourself in with what's hot this spring and summer.
1. Beautiful Beads
Designers have gone into 2023 with a strong inclination for crafts. The trend started strong early in the year and shows no sign of waning. Spring and summer will continue to see jewelry made from beads, stones, shells, and other "crafty" materials.
Take, for example, Likha's bombon artisan necklace. This necklace gives a nod to traditional beading while incorporating modern neutral tones. It is made from coco discs, wooden beads, and woven abaca. Wear this statement piece with simple silhouettes. They're perfect for spring picnics or summer seaside escapades.
2. Big Bags
Some people want to come ready for spring and summer with oversized bags. Easy-to-carry, chuck-everything-in bags are a rage with their functionality. These bags come in the wake of a pandemic where people demand comfort yet still want something pleasing to the eye.
Fit everything but the kitchen sink into these gargantuan bags. Ranging from gigantic leather totes to capacious shoulder bags. For weekend brunches or sunny strolls by the beach, tote Likha's rich jewel-toned macramé handbag. This Philippine-made and hand-produced satchel uses Manila hemp fiber. It is accented with a round wooden handle for that earthy yet elegant look.
3. Bold Buckles
The fashion meccas of New York and Paris were all abuzz with the (re)appearance of the big, bold buckles. Belts with statement buckles rocked the runway. They're seen cinching waists, hugging torsos, or barely sitting on hips in ala 2000s fashion.
These clasps held together outfits literally and figuratively. It usually came in bronze, gold, or silver. These buckles deliver a striking fashion statement. They are paired with garments of different colors, cuts, textures, and textiles.
4. Charming Cuffs
Bangles, bangles, and more bangles. Get more bang for your buck when you invest in bracelets that adorn wrists, forearms, and even biceps. It's the right season to flex the cuffs in your closet. This year's runways are besieged with models donning creative arm candies.
Cuffs are charming additions to any outfit. You can see elaborate designs such as serpentine designs coiling the length of one's arms. There are also simple yet sophisticated pieces.  Take, for example, Likha's mother-of-pearl bangles. These are hand-carved from a single piece of shell. These cuffs are available in pearl white and iridescent gray and lend timeless elegance to any outfit.
5. Delightful Danglers
But this spring/summer fashion season, you can adorn your ears with danglers. Coming in all shapes, colors, and materials, earrings dangle from the lobes of the fashion-forward femmes on the catwalk. It has made the rounds in fashion circles.
You want it hanging an inch or two from your earlobes. Another option is to have it outright skimming your shoulders. For sure, these danglers are conversation pieces. Mermaidcore is a trend. So if you want something to wear during your summer soirees (and beyond), try Likha's long dangle earrings. Cut, hand-carved and polished by master artisans from the Philippines, these versatile mother-of-pearl pieces deliver modern elegance.
6. Punchy Pendants
Another spring and summer must-have accessory is pendants. Neckpieces with statement danglers are all the rage. You can get floral-themed lavalieres. Or you can go for delicate leather or metal chains with oversized pendants.
Try out Likha's handmade chokers made from sustainably sourced and ethically-made materials. These brass-plated chokers feature pendants made from capiz shell. Don one to elevate any outfit with its minimalist and modern flair.
7. Thoughtful Totes
Some of this season's cult buys are bags that highlight their contribution to decreasing their carbon footprint. Also, woven bags made from sustainable materials made their debut. Worthy of mention are raffia bags, with high-end luxury brands also jumping in on the trend. Try these Japanese-inspired raffia knot bags from Likha and strut in style.
Modern woven totes are also making the rounds. Handy and functional, these can carry your spring or summer essentials. Check out the handwoven totes made with natural seagrass fiber and braided macrame cord handles.
Seamless Switch
Transition smoothly and stylishly from season to season with the tips mentioned above. Knowing this season's fashion faves could make your wardrobe change more fun. But, of course, these are just guides. Ultimately, it is your preference on what to go for. Besides, wearing a satisfied smile is the best accessory you can wear.