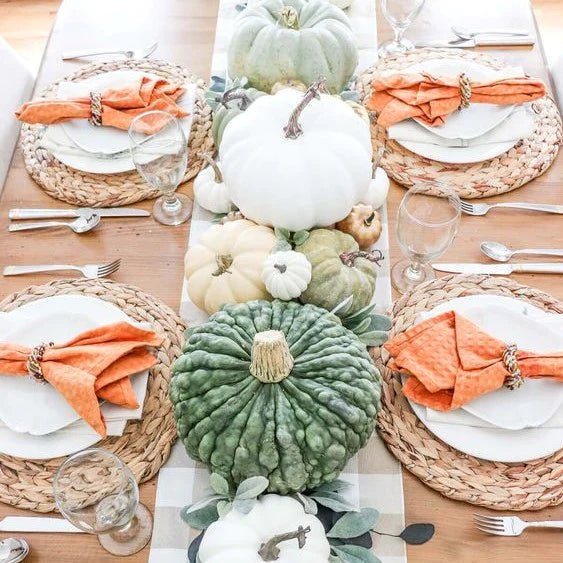 "We eat first with our eyes."
Apicius, a 1st-century Roman epicure, supposedly said this aphorism. Twenty centuries after, the same can still be said. You see people taking photos of food before they eat. Restaurant tables are set to the nines. Food and beverage companies are investing millions in creating unforgettable gastronomic experiences.
This season, you can also create your dream Thanksgiving feast by copping a few tricks of the trade. Likhâ shares tried and tested techniques to make your dinner table look as appetizing as your Turkey Day fare. Pull out all the stops by incorporating stylish yet sustainable pieces like handcrafted home decor, timeless basics, and a dash of creativity.
Feast for the Eyes
Eating is a multi-sensory experience. Aroma, colors, and textures can influence taste. Among the senses, the sense of sight is said to be the primary factor that determines how people experience food. The eyes report to the brain what it sees.  By sending information from its surroundings and experiences, the brain then interprets accordingly and gives a verdict on how food tastes. It can also affect how people feel when eating.
Studies like the psychology of appetite, neurogastronomy, and similar fields of science found that visual perception influences people's sense of taste. That is why food presentation is essential. Bear this information in mind when you are putting together your Thanksgiving dinner. Making your celebration as pleasing to the eyes as it is for the stomach would surely make everyone at the table feel good.
Just as you carefully curate your menu, remember to create a dining atmosphere that will whet your guests' appetites. Here are three simple tips on how to set a terrific-looking Thanksgiving table:
1. K.I.S.S. It
When you don't know where to start, remember to just K.I.S.S. it – Keep It Simple and Seasonal.
Autumn offers a cornucopia of options when it comes to decoration. Do you want to go with the turkey theme? Go for it. Will it be about a bountiful harvest? Bring it on. Are you leaning toward using fall colors? Feel free to do so.
Create a central theme that is basic enough. This way, it is easier to build on it as you go along is easier. For example, choosing autumnal colors like brown, gold, orange, red, or yellow as a starting base can create a seasonal look. For example, brown is for wheat, gold or yellow for corn, orange for pumpkins or harvest, and red for fallen leaves.
Start with a neutral canvas, such as using basic linens in beige, cream, or white linens. You can also go bold using jewel tones like emerald green, magenta, or teal. Place corn, sweet potatoes, and other fruits of the harvest in rust and mauve-colored storage baskets as a centerpiece, for example. If you plan to have a buffet, you can place utensils in coral handwoven tabletop baskets for a splash of color.
2. Organization is Key
People respond positively when served food more pleasingly and neatly. With this in mind, consider the neatness of your Thanksgiving table. Plating your food in an appetizing way will add to the celebratory feel of your get-together. It also gives the impression that you have taken the time and effort to give your guests a lovely meal.
To avoid a haphazardly-prepared table, do your homework. Prepare ahead of time as much as possible. This will help you avoid being stressed on the day and allows for a more carefree vibe.
Create a list of things to buy based on your theme. If you already have a stash in storage, list which ones need to be taken out. Do an inventory to check for chips or cracks on your dinnerware. Lastly, clean your dishes to get rid of accumulated dust or rust. Stack them in stylish yet functional storage baskets for easy reach.
3. Play and Explore
Create a festive atmosphere by exploring different decor aesthetics.
For one, lighten up the mood with lights. Research suggests that ambient lighting influences food perception. Instead of using tall candelabras that may hamper the line of vision when talking to guests, opt for tea lights or votive candles. Dot it around the dinner table. Best to use unscented ones so they won't mask the aroma of food. If you're afraid of catching fire, flameless candles will do. You can also place glass candleholders on mother-of-pearl coasters for an elegant look.
Try to bring the outside in. Use fresh fruits, flowers, or greenery to decorate your table. Surprise guests by adding a playful animal planter as a centerpiece. You can also use dishes and tableware using sustainable materials like natural fibers and wood.
Contrasts will also work. For instance, you can use fine china on top of a woven placemat. Another idea is to place wooden trays on embroidered satin table runners.
Avoid crowding the dinner table. Ensure that everyone can move freely without the fear of toppling something. Fewer dishes in varying shapes and sizes can accomplish this feel without compromising aesthetics.
Treats for the Heart
Setting a tantalizing Thanksgiving table is easy if you know what you're going for. Set a theme, organize your thoughts (and your things), and don't be afraid to explore possibilities with your design and decorations. More importantly, enjoy what you are doing. Let the love and gratefulness in your heart lead you to create a feast that is savored by the eyes, stomachs, and hearts of everyone around it.
Happy Thanksgiving!