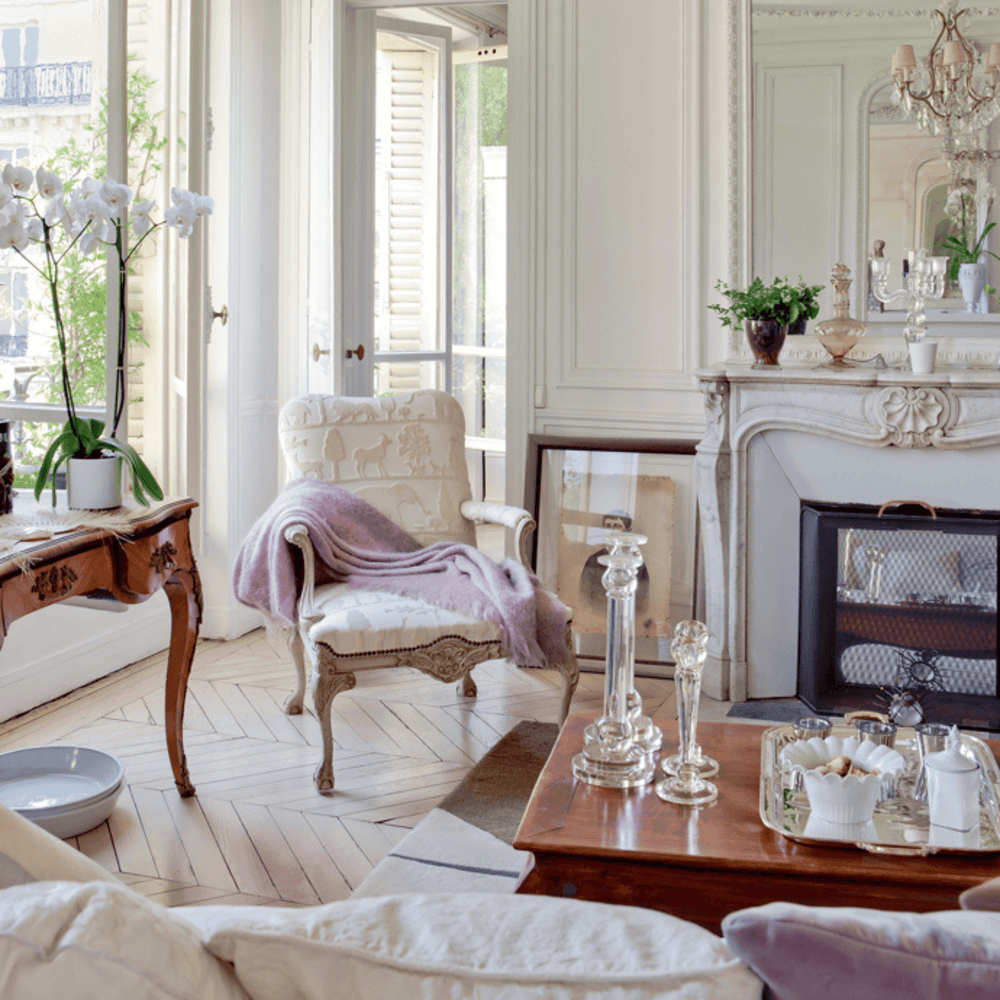 Romance is all around us.
It is not just in the eyes of star-crossed lovers or on the cherry cheeks of those experiencing puppy love. Romance is in the air and is present all year round. This is especially true for those with the time and inclination to see and feel it. 
Romance is so much a part of people's lives. So much so that it has seeped into art, architecture, literature, and
interior design
. So if you're someone who wants a dash of whimsy in your personal space, then the Romantic Style is for you.

Whether you want to fan the flames of your relationship or simply want a romantic-inspired space to retreat to, this blog can help you create a romantic vibe at home. Using interior design and home decor pointers, romance can easily be at your fingertips.


What is Romantic Style?
 Photo by Atlanta Homes & Lifestyles
The romantic interior design style dates back to the Romantic Era in Europe. This artistic, literary, and philosophical movement dates from the 18th century until the mid-19th century. Picture canopied beds in Louis XV's court and detailed floral wallpaper. 
Romantic style or Romanticism in interior design speaks of soft elegance, a vintage flair, and subtle feminine touches. Some elements of romantic interior design style are:


Often use

neutral color palettes

, but also include muted colors or beige, pink, and yellow.

Colors often range from pale pinks to vibrant reds. Soft blues, cream, dusty pinks, and lavender are favorites, as this help create a relaxed and romantic atmosphere.

Florals are a core feature

, especially since Romanticism emphasized nature and the emotion it evokes. 

Lace and trims are also elements usually seen in interior decor. Fabrics such as damask, suede, and velvet are also used to enhance the romantic vibe.

Furniture leans toward

antique and vintage looks. It is often plush, upholstered, and features claw-footed designs, intricate carvings, or ornately shaped armoires.


Photo by Jadore Lexie Couture
In a nutshell, Romanticism in interior design is more about creating a warm, cozy space that has a sense of femininity or a vintage-inspired feel. It's about soft curves, metallic accents (think gold or silver), and sometimes bold (red roses and rouged lips, maybe?).
If you want a comfortable and dreamy space, you can get some tips and tricks here on creating a Romanticism-themed abode.

1. Consider Curves
Photo by Reserve Home
Romanticism is all about undulating curves and free-flowing lines. Choose furniture, decor, or accents without sharp edges to create a carefree and romantic vibe in any of your rooms. 
Go for pieces like a china hutch, a demilune console table, a four-poster bed, or wingback chairs. You can group furniture to create a more intimate space. Claw-footed tubs, vintage dressers, and escritoires can add a romantic vibe to any room. 
You can go for pieces with rounded features like paired planters, oval mirrors, round footstools, or spherical lamps for decor.

2. Pick a Palette
A room's color will help set the mood. Choose from a palette of soft nudes or pastels for a more romantic feel. Dusty pinks a popular, along with lavender, periwinkle, and old rose. These colors provide a comfortable and inviting atmosphere that will help you relax and unwind.
If you want to go bold – like in the bedroom, for example – you can choose red tones. The intensity of red may daunt some, but if complemented with suitable styles, it will give your space just the right drama and energy. Temper fiery red tones with neutral colors to avoid being overwhelmed.


 Photo by Alim Yakubov
This year's Pantone Color of the Year, Viva Magenta, will work perfectly for accent walls. It can also be a core color for statement walls or furniture. Pick one area, furniture, or decor that will serve as a statement piece and work around it. For example, a scarlet bed, crimson wall, or burgundy carpet can work with complementary shades.

3. Find a Spot for Florals
Photo by Poster Store
One of the key elements in Romantic Interior Design is the use of floral prints. Whether it's detailed florets or big, bold blooms, these designs lend a romantic flair to any room. 
Floral prints on beddings, draperies, or walls will work. For accents, you can also decorate with posies. Flowering plants in pretty planters or hanging baskets are also attractive additions to any room.

4. Mind your Metals
 Photo by Shabbyfufu
Metallic elements add to the romantic vibe, as well. Complement your palette or prints with bronze, copper, gold, or silver touches. You can also go for shiny materials and textures to balance out the femininity of a space. 
Just remember not to go overboard. Crystal chandeliers, mirrors, mother-of-pearl tableware, and silver accessories are some examples that you can use to add that hint of shimmer to your space.

5. Work in Warm Neutrals
 Photo by French Country Cottage
Another way that you can amplify the romantic vibe in your space is by working with neutral elements. You can do so by choosing achromatic or nude colors. 
Use neutral stains and warm upholstery tones to evoke a romantic feel in furniture. In addition, you can opt for natural materials such as fibers and wood for decor. Wooden dinnerware, furniture, and decor add a homey feel, while different fiber textures add depth to a room.


Reel in Romance 
Photo by Carly Page Summers
Romance is not just seen in a flurry of heart designs. It is evident in a lot of things around you. For a cozy and warm retreat, a romantic interior design theme can do wonders to lift your spirits. With the simple pointers we've shared, we hope you can look forward to snuggling into your comfy and dreamy space.