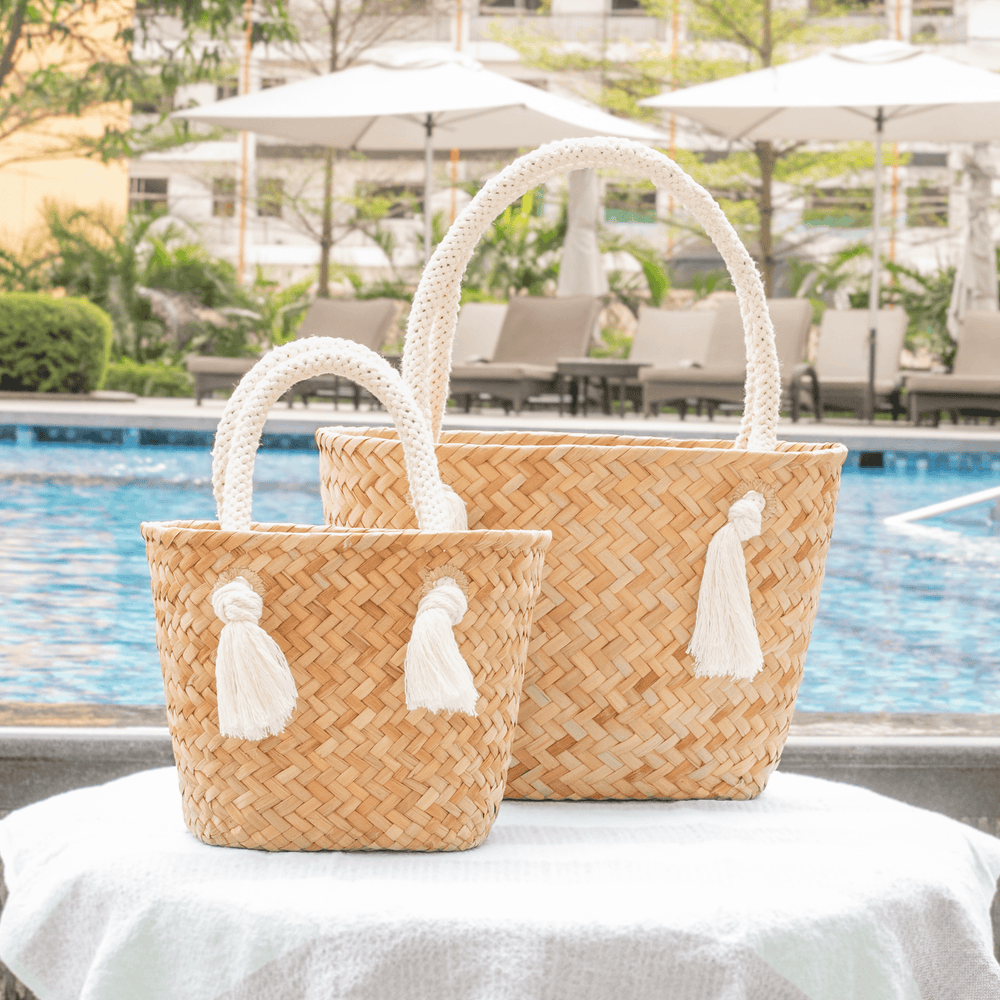 Totes adorbs.
This is the general thought when people think of the It bag of the season – totes. Coming in all forms and sizes, the tote has come far from its utilitarian beginnings to what it is today.
Cool as Ice

Coming from the word "tote," meaning "to carry," its origins aren't entirely clear. However, it is commonly accepted by the outdoor brand L.L.Bean. The Ice Bag was initially intended to carry ice from the car into a freezer. This was in 1944; the tote has become an iconic carryall since then. 
In the 60s, American designer Bonnie Cashin turned the tote from simply functional to fashionable. The "Cashin Carry," made for the brand Coach, was made of leather and came in various vibrant colors. 
The tote became a staple in the 70s and the 80s. The famed bookstore The Strand saw a marketing opportunity as people enjoyed the tote's many uses. They printed the store's information and tagline on black canvas bags. These bags are still popular today, especially in New York. 

Photo by Sotheby's
Over the years, designers thought of ways to "build a better tote." What would be one of the best examples of this is the fateful meeting of actress and singer Jane Birkin and Jean-Louis Dumas. As the contents of the actress' straw bag accidentally spilled during a plane ride, it inspired Dumas to design a tote catering to the travel needs of jet-setting women. Years later, the Birkin bag came to be.
The world saw many variations of the tote bag. In the 2000s, the advent of "it bags" cemented the tote's position in the hierarchy of handbags. Brands like Kate Spade produced several designs that became one of the reasons why her brand became known worldwide. Luxury brands also launched their versions, such as Louis Vuitton's Neverfull or Goyard's Saint Loius. 
The tote bag industry is booming, and market experts predict a 4.60% CAGR from 2023 to 2030. It is forecasted to reach USD 3.60 billion by 2023. 
Hot Spring Item
Spring 2023 came in the wake of the coronavirus pandemic. While the world is not yet entirely free from the virus' grasp, borders have opened, restrictions have been lifted, and people have started to live their lives outside the bubble. 
Along with revenge travel (or revenge everything, so it seems), the fashion world is also returning to a more open, explorative, and expressive way of dressing. The return of the tote (tote bag sales have gone down during lockdowns) is pronounced, with Bottega Veneta, Christian Dior, Loewe, and other big-ticket brands also launching their versions of high-fashion-yet-functional handbags. Here are some of the basic tote styles that you can totally snatch for yourself this season:
1.Tiny Totes

While most bag sizes lean towards the XL and XXL sizes, some of this Spring's collections turn to small and medium-sized totes. Perfect for lunch with the ladies or a quick run to the grocers, these totes are fun and light alternatives that can still hold the essentials.
2. Oversized Options

If you're the type to bring everything but the kitchen sink, then giant totes are for you. Whether it's a trip to the daycare center, a power presentation at work, or a leisurely picnic at the park, oversized totes can spell form and function at the same time. 
3. Sustainable Satchels

Nature-inspired pieces are also all the rage this Spring. Tote bags made from environment-friendly materials like abaca, buntal, palm fiber, seagrass, raffia, wooden beads, and the like are making it internationally. These eco-conscious pieces not only make a fashion statement and speak of classic and sustainable design. 
In the Bag
Totes are popular for a reason. Here are some of them:
1. Variety
Tote bags come in all colors, designs, materials, sizes, shapes, and textures.  Since there is a vast selection available in the market, it is easier for you to choose the best one that will suit your budget and fashion preference
2. Versatility
Totes are made to be functional. But, over the years, it has also become fashionable. From casual carry-alls to chic classics, these handbags can be used in many ways and on different occasions. 
For example, investing in a neutral-colored tote will allow you to mix and match it with different outfits. This translates to cost efficiency and better return on investment, as well. At the same time, a tote can be your useful companion while shopping or as a cute eye candy.
3. Sustainability
Most totes, especially those ethically and responsibly made, are also made of sturdy stuff. Since they are durable, they are kinder to the environment because you can reuse them. Shopper totes, for example, are excellent alternatives to single-use plastic bags. 
If you get tired of using them as totes, you can upcycle them as beach bags, purses, or receptacles for books, gadgets, and gym essentials. You can also find totes that are made of recyclable materials. 
Totes Amazing
If you want a bag with style and substance, a tote would be your best bet. Waltz into spring toting a bag that speaks – and carries – volumes.